Since 1999, we have been growing high generation seed potatoes for the Canadian Seed Potato Industry. We use disease free micro plants from our laboratory to produce disease free minitubers or weaned plantlets in our greenhouse facility.
All of our tubers and plantlets are CFIA inspected and certified as Nuclear pedigree.
All of our mini tubers and field-ready plants qualify as "Nuclear"- the highest pedigree of potato seed production. All production is inspected and certified under the CFIA"Nuclear Stock Seed Production Program".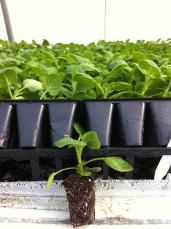 Weaned Plants-72 per tray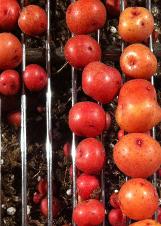 Minitubers-Small/Medium/LARGE
We have access to all public varieties
Minitubers and Microplants grown on a contract basis only.
Microplants areavailable March through August.
To make an order or to inquire, contact us here!
If you are using a mobile device, you may not be able to view the above files.
Install Adobe Reader for mobile here